UK Foreign travel advice on Eritrea – 2020
British Government has rectified its Travel Advisory Notice on Eritrea
British Government (FCO) has rectified its Travel Advisory Notice on Eritrea updated yesterday (27 April) acknowledging – in a separate Note Verbal to GOE – the inadvertent use of inappropriate words & resultant "lack of clarity" in the earlier version.
Foreign travel advice
Eritrea
As countries respond to the COVID-19 pandemic, including travel and border restrictions, the FCO advises British nationals against all but essential international travel. Any country or area may restrict travel without notice. If you live in the UK and are currently travelling abroad, you are strongly advised to return now, where and while there are still commercial routes available. Many airlines are suspending flights and many airports are closing, preventing flights from leaving.
Summary
Still current at:28 April 2020Updated:27 April 2020Latest update:
Routine revision and update.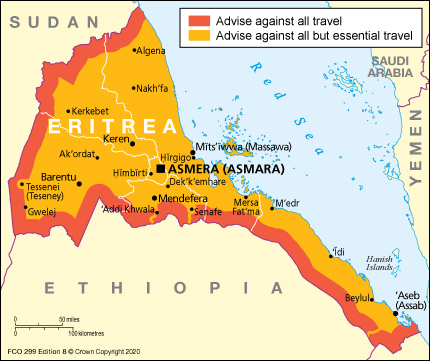 Coronavirus: stay up to date
Cases of coronavirus (COVID-19) have been confirmed in Eritrea. See information on measures introduced in Eritrea to limit the spread of the virus. Find out how to return to the UK from Eritrea.
See coronavirus travel advice for guidance on international travel.
Sign up for email alerts for Eritrea travel advice.
The Foreign and Commonwealth Office (FCO) is advising British nationals against all non-essential international travel at this time. Existing advice for Eritrea remains in place:
The FCO advise against all travel to:
within 25km of Eritrea's land borders, with the exceptions of: the towns of Senafe and Tessenei; the border crossings at Debay Sima – Burre, Serha – Zalambessa and Kesadika (Adi Kuala) – Rama, plus the main paved roads leading to those crossings (as displayed on the map). All border crossings between Ethiopia and Eritrea are currently closed. See Local travel
Cases of coronavirus (COVID-19) have been confirmed in Eritrea. The Eritrean authorities have introduced a number of measures to limit the spread of the virus, including closure of Asmara International Airport. See Coronavirus
Given the COVID-19 pandemic and the closure of Asmara International Airport, we are temporarily withdrawing all UK staff from our Embassy. The Embassy will continue to carry out essential work including providing 24/7 consular assistance and support to British nationals in Eritrea.
All foreign nationals, including diplomats, must apply in advance for a travel permit to leave the Asmara region. See Travel permits and Consular assistance
The Eritrean authorities consider all British nationals holding either Eritrean or PFDJ identity documents (including out of date documents) as Eritrean nationals.
Consular support is severely limited in parts of Eritrea. Constraints on travel within Eritrea means the British Embassy in Asmara is unable to offer consular assistance to British nationals outside the greater Asmara area. The British Embassy is unable to offer consular assistance to dual nationals in Eritrea. See Dual nationals.
Although there's no recent history of terrorism in Eritrea, attacks can't be ruled out. See Terrorism
There may be some shortages of drinking in more remote areas of Eritrea due to the closure by the Eritrean Government of many of the water purification and bottling plants, but imported water from Ethiopia and Sudan is available.
If you're abroad and you need emergency help from the UK government, contact the nearest British embassy, consulate or high commission.
Take out comprehensive travel and medical insurance before you travel.
www.gov.uk/foreign-travel-advice/eritrea
British Government (FCO) has rectified its Travel Advisory Notice on Eritrea updated yesterday (27 April) acknowledging – in a separate Note Verbal to GOE – the inadvertent use of inappropriate words & resultant "lack of clarity" in the earlier version. https://t.co/m8ze3mWCaA

— Yemane G. Meskel (@hawelti) April 28, 2020
Comments
comments