A landmark achievement – Eritrea meets V2020 goal for refractive errors human resources 4 Oct 2019
A landmark achievement – Eritrea meets V2020 goal for refractive errors human resources 4 Oct 2019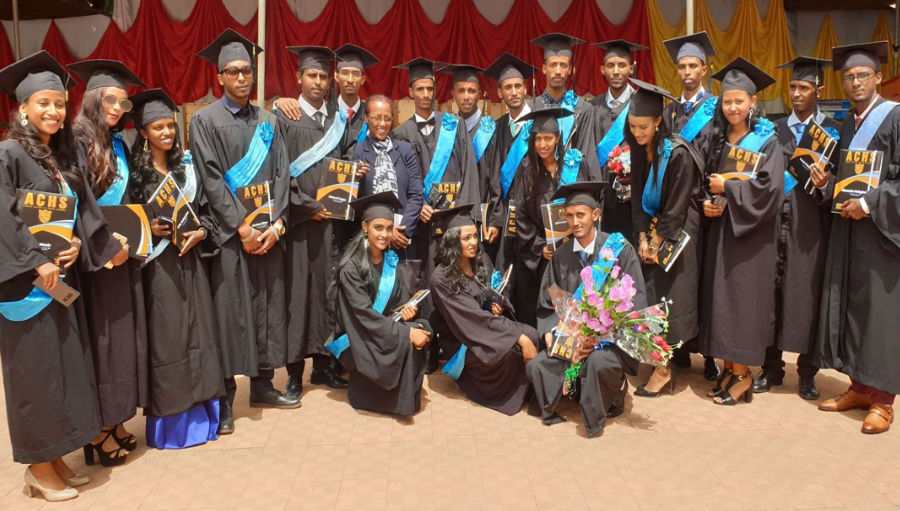 After 9 years of running optometry training programme, Asmara College of Health Sciences (now Asmara University Orotta College of Medicine and Health Sciences) in Eritrea produced the country's first optometrists.
The 22 graduates (9 female and 13 male) were conferred their Bachelor of Optometry Degree in August 2019. Considering that the country has also trained 120 Optometric Technicians, this brings the total number of human resources for refractive error services in Eritrea to 144.
With an estimated population of 3.5 million, this achievement makes Eritrea the first country supported by Brien Holden Vision Institute not only to meet, but exceed the VISION 2020 human resources target for refractionist 1: 50,000 population.
……..Dual Problems: The story of a drunk and a smoke 
…….Eritrean U20 team's victory celebrated
…….Rwanda launches 'first made-in-Africa' smartphones 
…….The TPLF'S battery running out too quickly…
Brien Holden Vision Institute began the optometry training programme in Eritrea in 2010 in partnership with the Ministry of Health and Asmara College of Health Sciences.
Since then the college has trained 120 Optometric Technicians, all of whom have been employed by the Ministry of Health in the 15 Vision Centres that the Institute supported the Ministry of Health to set up around the country.
The 2-year diploma programme that produced the optometry technicians was intended to be a short term and immediate solution to the dire need for refractive errors personnel in Eritrea, with the long-term plans of training optometrists. The diploma programme was therefore discontinued in 2016 after the 5-year degree programme in optometry had begun in 2013.
The 22 optometrists have also been employed by the Ministry of Health in the various Vision Centres in the country to provide more advanced eye care services beyond the optometry technicians' scope.
Comments
comments